ALUMIER MD
The next generation of clinical exfoliation. With a variety of peels, each with a unique complex of ingredients, your AlumierMD professional can customise your programme of treatments for your skin. Your trained professional will discuss the best peel to suit your skin and expectations.
ALUMIER MD FACIALS (suitable for pregnant clients)
Our Alumier MD Facials conclude with an LED Light Therapy Session for a more advanced treatment.
AlumierMD Enzyme Re-Texturing Treatment
(30 mins) This treatment is a highly effective fruit enzyme resurfacing solution. The unique blend of fruit enzymes exfoliates dead skin cells and promotes skin renewal using brightening enhancers. The result is a reduction in the appearance of fine lines, wrinkles and hyper-pigmentation, while soothing and maintaining hydration.
AlumierMD Refining Clay Treatment
(30 mins) This is a highly effective treatment to refine and purify the skin. A unique blend of clay and exfoliating ingredients removes dead skin cells and promotes skin renewal while clearing trapped oil. The result is a reduction in the appearance of blemishes and excess oil, while soothing and maintaining hydration.
AlumierMD Deep Moisturising Treatment
(30 mins) Deep Moisturising Treatment is an intensely hydrating and nourishing option that infuses antioxidants and moisture binding ingredients resulting in plump, soft skin and a dewy complexion. This customised treatment also includes the application of targeted treatment serums to address your individual skin concerns to provide the optimal result.
AlumierMD Aqua Infusion Mask Treatment
(30 mins) This mask infuses the skin with water, fighting against age induced dehydration and helping the skin's ability to retain moisture for up to 72 hours. Unlike other moisture masks, this formula is oil free making it ideal for oil rich or acneic skin types.
ALUMIER MD PRESCRIPTION PEELS
Vitamin A boost is a potent and pure retinol and lactic acid resurfacing treatment. It reduces the appearance of fine lines, wrinkles and hyper-pigmentation by boosting collagen production and speeding cell turnover, creating a more radiant and eventoned complexion.
Detox Clear contains salicylic acid and lactic acid for excellent pore penetration and exfoliation. Salicylic acid penetrates into the pore and exfoliates dead skin cells and excess sebum. Lactic acid exfoliates dead skin cells and hydrates. Eucalyptus provides strong astringent properties which work to smooth skin, minimise pore size, reduce acne and prevent new pimples from forming.
With lactic and salicylic acid, radiant 20/10 resurfacing peel contains a powerful combination of them both which improves skin tone and texture by exfoliating dead skin cells and speeding cell turnover. This multipurpose resurfacing peel reduces acne, pimples and minimizes the appearance of fine lines and wrinkles, large pores, hyper-pigmentation and sun damage.
Radiant 30 is an alpha hydroxy acid resurfacing peel containing lactic acid to exfoliate dead skin cells. Boost cell turnover and stimulate collagen, improving skin texture and tone. This multifunctional peel targets multiple skin conditions, including fine lines and wrinkles, discoloration, sun damage and large pores.
DERMALUX LED PHOTOTHERAPY
Multi-award winning DermaLux is a world leading and trusted British brand for professional LED Phototherapy.
Hailed as the perfect complexion boost, DermaLux instantly energises skin cells to revitalise a dull and tired complexion. A course of treatment offers long lasting results, stimulating the skins natural rejuvenation & repair processes to promote to promote healthy looking skin, accelerate cell renewal and resolve a range of skin concerns.
As an 'add on' to another salon treatment
(for recommended twice a week for optimum results)
CACI - SIGNATURE NON-SURGICAL FACE TONING
CACI's Signature Non-Surgical Facial Toning is an advanced non-invasive facial, with twenty years of medical research behind it.
Microcurrent impulses will lift and tone the facial muscles and the neck area, whilst improving skin elasticity and reducing the appearance of fine lines and wrinkles. This gives a more youthful, fresh appearance and glow.
Course of 10 CACI signature facials
CACI signature facial plus jowl lift
Includes signature, hydro tone mask and glycolic peel
SKINPEN MICRONEEDLING
SkinPen is a state-of-the-art, medical grade device created to improve the appearance of fine lines, wrinkles and scars on the body and face.
Stimulate collagen with microneedling from SkinPen.
Clinically proven to safely and effectively treat the skin, SkinPen microneedling will naturally increase your skin's long-term collagen production by stimulating the skin's natural ability to repair itself, the appearance of lines, wrinkles and scarring will be improved and your skin will be left tighter, radiant and luminous.
SkinPen is the only microneedling device cleared by the FDA.
DMK
DMK is the only company in the world to utilise the beneficial effects oftransfer messenger enzymes. Enzymes are living substances that regulatehealthand work with certain minerals in the body toform anatural system of antioxidants that fight corrosive free radicals.
This treatment works with the skin rather than only acting on the surface of the skin like some cosmetic facials.The enzymes aim to strengthen the structural integrity of the skin to create ahealthy environment for cells to live and thrive in. Enzyme Therapy exercises facial muscles and works to leave the skin feeling firm.
skin. It works by causing themuscles to contract,reinvigorating circulation, increasing amino acids, and restoring optimal function. It rebuilds a stronger healthier better functioning skin giving ti back its bounce and tight youthful appearance.This treatment works to prevent thedecline ni thefunctioningof your skin that causes ageing even before signs become apparent. Only available after DMK Enzyme Therapy.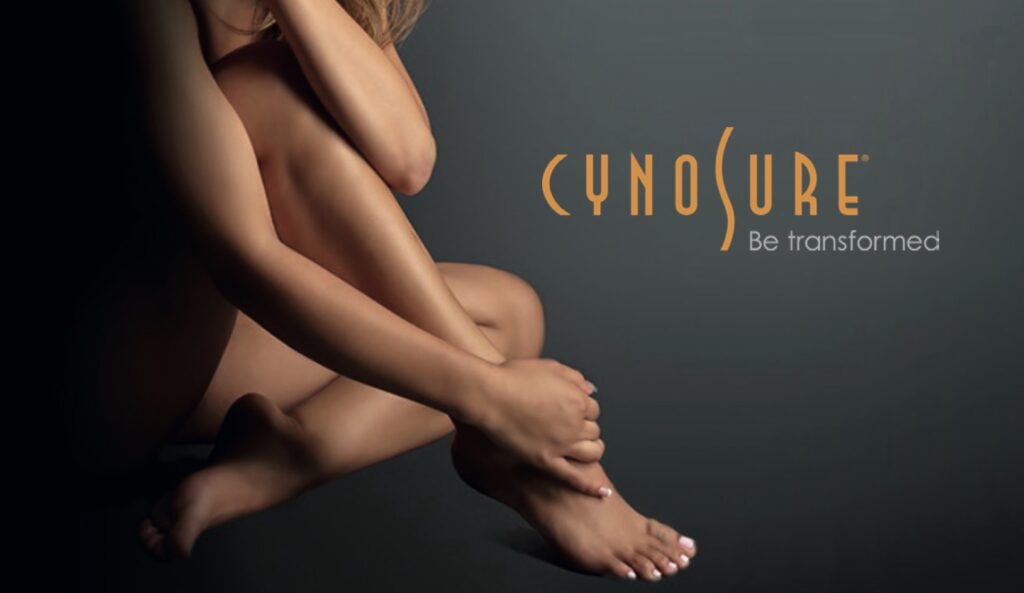 CYNOSURE LASER HAIR REMOVAL
CynoSure Laser hair removal is the most effective, medical grade method of hair removal available that can be used to remove hair on both the face and body.
Unlike other methods such as waxing and shaving, laser hair removal uses light energy to permanently damage or destroy individual hair follicles. This treatment targets the roots beneath the skin surface using a medical grade laser to prevent regrowth.
We usually recommend 6-8 appointments, 4-6 weeks apart, but this may differ and will be discussed in your consultation.
Patch test & consultation
(Redeemable against 1st treatment)
Full leg, bikini & underarm package
HAIR REMOVAL WAXING
LYCON HAIR REMOVAL WAXING
Wax Packages
Full leg, bikini, under arm & eyebrow wax
ELECTROLYSIS PERMANENT HAIR REMOVAL
CYNOSURE THREAD VEIN & PIGMENTATION REMOVAL
Advanced laser technology destroys blood vessels responsible for veins. The same technology also targets unwanted sun damage and brown spots – pigmentation then disappears through the body's natural healing process.
1 facial thread vein removal
£45.00 (Single) - £105.00 (3 Course)
Small area of facial thread veins
£70.00 (Single) - £195.00 (3 Course)
Medium area of facial thread veins
£100.00 (Single) - £265.00 (3 Course)
Large area of facial thread veins
£130.00 (Single) - £350.00 (3 Couse)
Minor leg vein
£70.00 (Single) - £195.00 (3 Course)
Small area leg veins
£125.00 (Single) - £340.00 (3 Course)
Medium area leg veins
£150.00 (Single) - £380.00 (3 Course)
Large area leg vein
£180.00 (Single) - £460.00 (3 Course)
One pigmentation spot
£49.00 (Single) - £125.00 (3 Course)
Small pigmentation area
£75.00 (Single) - £199.00 (3 Course)
Medium pigmentation area
£100.00 (Single) - £245.00 (3 Course)
Large pigmentations area
£125.00 (Single) - £315.00 (3 Course)
RADIO FREQUENCY
Lift, firm & tighten
A course of Radio Frequency (RF) treatments will help to lift, firm and tighten skin. It stimulates the skin's own ability to produce collagen and elastin meaning you will continue to see results even after you have completed your treatment course.
Quick & painless with instant visible results
Radio Frequency is quick, and painless, it has an instant effect on elastin fibres meaning your skin will look and feel tighter from your very first treatment and immediately reveals younger looking skin.
Stimulates collagen, elastin & hyaluronic acid
Natural production of collagen and elastin stops as we get older. The heat of the Radio Frequency treatment stimulates cells in the connective tissues causing the body to reproduce collagen, elastin and hyaluronic acid that has depleted over the years.
Non-invasive, get straight back to your day
There are no needles or scary looking tools involved with this treatment. There is no downtime and no hiding away to recover.
Tones & tightens skin
The heat from the wand causes an instant tightening of the skin's elastin fibres – almost like an elastic band snapping back into place!
1 hour full facial, includes enzyme peel
Add CACI eye lift or jowl lift to any of above
Course of 10 full facial sessions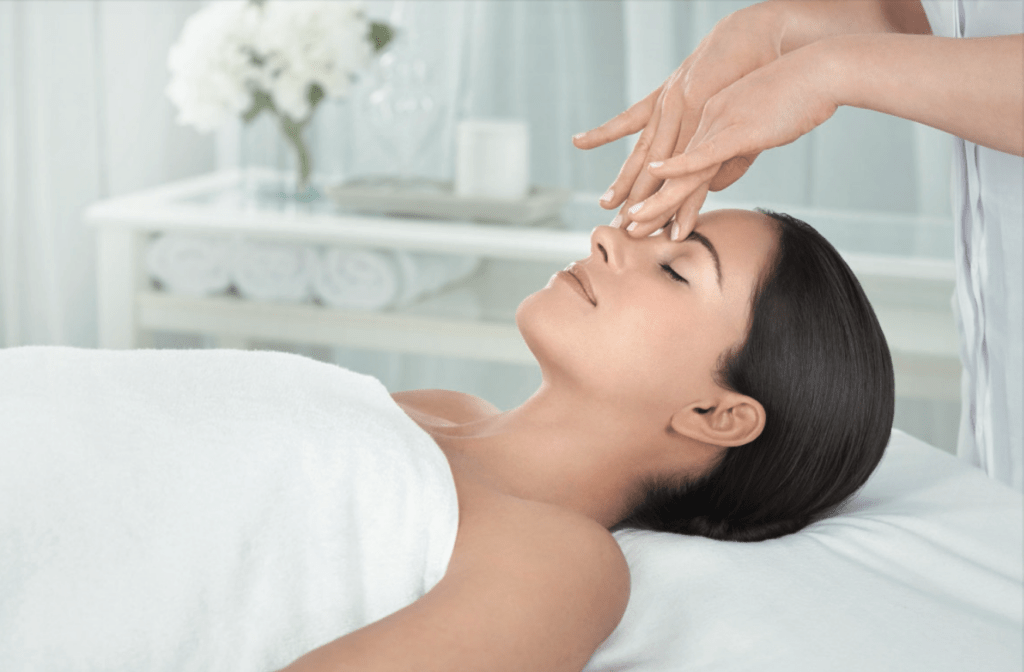 ELEMIS PRO-GLOW FACIALS
Globally renowned facials for the ultimate in relaxation. Using a combination of results driven products and relaxing facial massage techniques.
These targeted treatments will gently but firmly take on the challenges of sensitivity, dullness and ageing for more healthier, radiant complexions.
ELEMIS' signature deep cleansing skin wellness facial harnesses the goodness of prebiotics and anti-oxidants to deliver a healthy glow, skin will look visibly refreshed and rebalanced.
Targeting lines and wrinkles for more radiant, youthful looking skin. An infusion of hydration will leave skin feeling plump and hydrated, whilst delivering a tightened effect. After one treatment, the complexion looks firmer, supremely smooth and rejuvenated.
Purify and brighten the skins texture. With a spotlight on enlarged pores, blemishes and blackheads. Powered by Tri-Enzymes to minimise the look of uneven skin tone, texture, fine lines and pigmentation. Dull, uneven, tired looking skin will appear brighter, smoother and rejuvenated.
Turn up the brightness. Gentle resurfacing facial dissolves away dead skin cells to reveal healthy and clearer looking skin. A fusion of superfoods and anti-oxidant-rich oils plump the skin with moisture, whilst helping to nourish and protect. Immediately revealing an outdoor-fresh glow, skin is left feeling fresh and healthy.
Includes back massage and a 30 minute Elemis facial
1 hour Elemis Facial and Full Body Massage
ELEMIS BODY TREATMENTS
Elemis therapists make it personal. They look. They listen. They tune into you, performing transformative treatments, personalised to respond to the ever-evolving rhythm of your life and the ever-changing nature of your skin.
Elemis aromatherapy massages
An aromatic oil is selected suited to your concerns, be they muscle pain, stress relief, relaxation or balance. The flowing massage works deeper into the tension encouraging optimum circulation. Choose your pressure – option of deep tissue massage.
Back, neck & shoulder massage (30 mins)
Elemis best foot forward massage
Take a load off with this foot focused tension releaser. Lower legs and feet are thoroughly exfoliated, bathed and massaged. Feet are left nourished, soft and smooth. Perfect for pregnant ladies.
Elemis Peaceful Pregnancy Massage
Massage techniques adapted to each stage of pregnancy. Specialised positioning of our pillows to ensure the ultimate in comfort and relaxation. Suitable from 12 weeks of pregnancy.
MICRODERMABRASION
Diamond Peel & Hydration Mask
A deep-cleanse to refine the skins texture. Leaves skin smooth and hydrated
TIME FOR MEN
Back, neck & shoulder massage
High performance skin energiser facial
The hard working Elemis facial for ageing, dehydrated skin and tired eyes. It maximises cell regeneration, as steam and extraction decongests. Multi-dynamic facial massage sequences boost circulation, whilst scalp and foot massage deeply relax.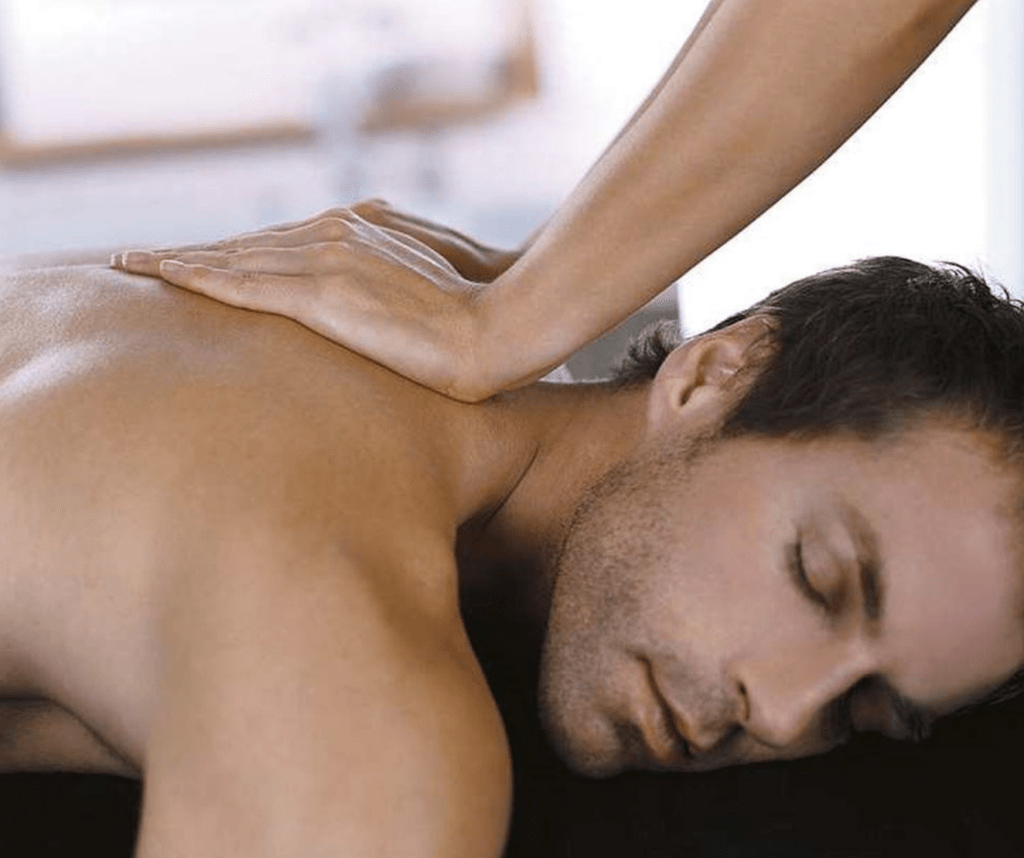 INNOVATIONS BODY TREATMENTS
Indian Head Massage
Signature Unwind Massage
Signature Unwind Massage
Relax into the heated bed as hot oil is gently brushed over the skin. This is followed by bespoke massage movements created to aid sleep, relaxation and mental clarity.
This treatment is perfect for you if you struggle to drift off at night, suffer with headaches, or are just feeling stressed out at the moment and need to switch off from the outside world. Includes a Lavender Heated Eye Mask, and can be performed with our Innovations Unwind Massage oil or high grade CBD Oil. CBD Oil is advised for afternoon appointments and must be stated on booking.
Lava Shell Massage
Sensory Retreats Lava Shell Massage
Drizzled in our signature massage oils before introducing the Lava Shell Massage. Combining constant heat delivery directly into the muscle with relaxing massage techniques to ease away tension and stress. These shells deliver a massage 10x deeper than the human hand giving you immediate relief from muscle aches and pains whilst encapsulating you in pure relaxation.
HD BROWS*
Eyebrows frame the face, balance features and express emotions and at innovations Beauty Clinic we take it one step further. We have revolutionised eyebrow care to give everyone that extra look-good and feel-good factor.
Custom-blended colour is applied and whether we darken, lighten or simply tone the natural colour of your brow hair, we'll ensure your new brows complement your look, and your style.
MICROBLADING
Semi-permanent eyebrow created through fine hair strokes. Microblading is all about creating the best shape for each face. A totally bespoke approach for each client.
First appointment plus 6 week top-up
Additional top-ups if required
BRIGHT EYES
Eyebrow shape, tweezed or waxed
Eyelash tint-creates long luscious black lashes*
Eyelash/brow tint and shape*
* Tint test required 48hrs prior treatment for new clients.
NOUVEAU LASHES
Individual single strand lashes applied using express techniques lasting up to 3 weeks, perfect for holidays and special occasions.
LVL LASH LIFT*
The treatment straightens your natural eyelashes at the root, so unlike a traditional lash perm it creates the effect of longer, lifted lashes in just 40 minutes. They'll stay that way for 6-8 weeks, especially when you nurture your lashes with our exclusive Nouveau Lashes Conditioning Serum. The results are immediate, plus the added lash tint creates a mascara-type effect.
(includes lower lash curl & tint)
FOOTLOGIX
The Footlogix hard skin treatment is perfect for quickly removing dry, hard callusses. You also have the option to pair the treatment with gel toes and make your feet beautiful, soft, smooth and hydrated.
Footlogix Express Hard Skin Treatment
Footlogix Full Pedicure &Gel Polish Application
HAND & FEET TREATS
THE GEL BOTTLE
A revolutionary light-cured formula that lasts for 2-3 weeks without chipping, peeling or fading.
Gel Nails with Builder in a Bottle
The Gel Bottle with luxury pedicure
TANNING
Bondi Sands tan develops in as little as 2 hours. Different shades of tan available.
3 for 2 - valid for 6 months