CHEMICAL FACE PEELS
Are you in search of a professional treatment to tackle your skincare issues? Whether you're dealing with acne-prone skin, enlarged pores, or an uneven complexion, a chemical skin peel could be the solution you're looking for!
At Innovations Advanced Skin Care and Beauty, we offer a range of beauty treatments, including chemical peels, in and around the Stockton area. Here, you'll find an abundance of information about what a chemical peel entails, its benefits, and what to expect during the treatment.
Among the most sought-after non-invasive procedures for skin renewal, our peels use 40% glycolic acid to speed up your skin's natural exfoliation process. The goal is to encourage the development of new, healthier, and brighter skin through enhanced collagen and elastin production. The procedure is pain-free and compatible with all skin types.
WHAT IS A CHEMICAL PEEL?
A chemical peel is a solution that's applied to the face to eliminate dead skin cells and encourage new skin cell growth. The objective of this cosmetic treatment is to enhance the look of your facial skin. For instance, a chemical peel can be effective in diminishing age spots, reducing acne scars and wrinkles, and evening out skin tone, leaving you with gorgeously smooth skin.
The treatment is available in three different depths:
Superficial Depth

Medium Depth

Deep Depth
Generally, superficial and medium-depth peels are considered safe when performed correctly. However, deep-depth peels come with higher risks.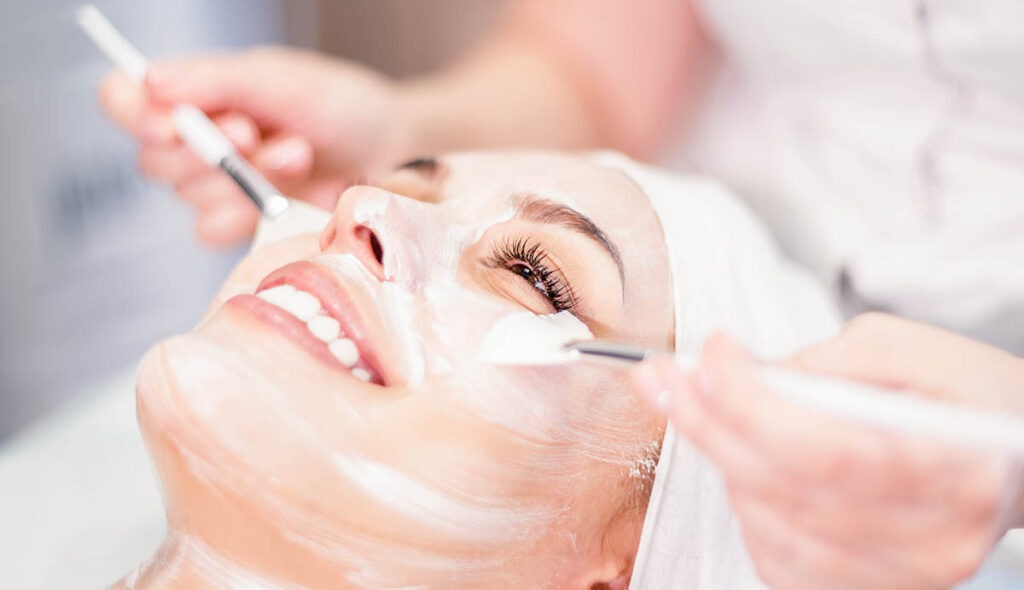 THE BENEFITS OF CHEMICAL PEELS
There are many benefits of a chemical face peel. From fine lines and wrinkles to improving uneven skin tone and texture, you'd be amazed at what it can do. That said, some of the main benefits of a chemical face peel are:
Reducing fine lines and wrinkles
Correcting sun damage
Improving acne
Pigment issues
Enhancing skin tone and texture
Maximise the effectiveness of your skincare products
WHAT DOES THE TREATMENT INVOLVE?
Taking just 15-25 minutes this treatment is suitable for all skin types. Cleansing of the skin takes place before the application of glycolic acid. The solution is then neutralised and aftercare products are applied. There is no downtime, peeling or irritation.
Ensuring your face is dry after cleansing is crucial, as any residual water can counteract and lessen the impact of the chemical ingredients in the peel. Continue reading to discover what each type of peel entails.
Superficial Peels
Removal of skin cells from the uppermost layer of skin.
Applied for a short duration, typically a few minutes.
Your skin might feel taut for several hours post-treatment.
Ongoing treatments are necessary to sustain the results.
Medium Peels
Targets both the top and middle layers of skin for cell removal.
Remains on the skin for a short period, usually a few minutes.
You may experience a burning or tingling sensation upon application.
Expect potential redness or browning of the skin in the subsequent days.
The skin may take up to six weeks to fully recover.
Follow-up treatments every 6 to 12 months are recommended to maintain the effects.
Deep Peels
Affects the more profound layers of the skin.
A local anesthetic and sedative are often required.
You may feel a chilling sensation when the peel is applied.
The duration of application can exceed 30 minutes, depending on the desired outcome.
Monitoring of heart rate and blood pressure is necessary, as phenol, the active chemical, can have adverse effects on the heart and kidneys.
Expect some initial peeling, redness, and discomfort post-treatment.
Swelling may persist for up to two weeks.
Skin redness could last up to three months.
The treatment frequently results in a lighter skin tone and is thus not ideal for darker complexions.
Being a one-time treatment with lasting effects, it typically doesn't require repetition.
RECOMMENDED COURSE:
1: Freshen and Brighten Skin
4 – 6: Treat Mild/Moderate Acne
6: Complete Skin Rejuvenation
6 – 12: For Deeper more Advanced Results
CONTACT US FOR CHEMICAL PEELS IN STOCKTON
Book an appointment with one of our beauty therapists today for chemical peels in Stockton. Our chemical peel specialists at Innovations Advanced Skin Care and Beauty are here for you when it comes to an effective skin treatment that offers real results.
Interested in any of our other treatments? We also offer a range of acne treatments, light therapy, and microneedling, so we're sure to have the solution for you. Get in touch to find out more. We also offer our services in Middlesbrough and Yarm too, so we're able to cater to you! 
CHEMICAL PEEL FREQUENTLY ASKED QUESTIONS
How long will a chemical peel last?
The new layer of skin will start to appear in around seven to ten days after the treatment, complete healing can take around two months or longer. However, this all depends on the type of chemical peel you have, whether it's light, medium or deep, as well as how your skin is anyway.
What should I do after the chemical peel?
We recommend using a gentle cleanser, moisturiser and an SPF as this will help the healing process and your results. Normal activity can be resumed after the peel however strenuous exercise and heavy sweating should be avoided for 2 to 3 days.
Can I wash my face after a chemical peel?
As specialists in chemical peels, we recommend that you wait 12 to 24 hours after the chemical peel to wash your face. It's also important that you use a gentle cleanser that contains no salicylic or alpha hydroxy acids or other harsh chemicals. You can also use a washcloth with a mild face wash to lightly exfoliate the dead skin.
Is it normal to break out after a chemical peel?
Yes, this is totally normal, a chemical peel will accelerate your cell turnover and it's normal to have a purging phase when you start treating the skin. During the beginning stage you may notice things like breakouts and areas of pigmentation getting darker.
Can I wear makeup after a chemical peel?
If it's a low strength chemical peel that you can start wearing makeup the next day, so wearing makeup will depend on the depth of the chemical peel as well as the rate that your skin heals following the cosmetic procedure.
How often should I get a chemical peel?
Generally it's best to get a peel every four to six weeks, but if you suffer from acne, there are some peels that you can do every two weeks until you get the results that you want. It's a great idea to have a series of four to five peels as this will allow you to ensure you'll receive the results that you want.
Are chemical peels safe?
Yes, absolutely, the chemical skin peels we provide are safe when they're used in the right hands, however the process of a chemical peel can be harmful if it's not done correctly, before you get a chemical peel, it's important that you come for a consultation.