LED LIGHT MASKS
Everyone loves having a glowy and dewy look about their skin and light has positive effects, our LED light therapy works in different wavelengths and will stimulate different layers of the skin. These wavelengths will target the skins deepest layers using LED phototherapy, the skin cells will be energised and function better, helping them to regenerate up to 200% faster. What's more is research has shown that after 8 sessions, LED light therapy has improved the skins pro-collagen. For more information on LED light therapy in Stockton and across the North East, contact Innovations Advanced Skincare and Beauty Clinic today.
WHAT IS LED LIGHT THERAPY?
It's a non-invasive treatment that uses LED light energy to trigger your body's natural cell processes and also to accelerate rejuvenation and repair of the skin. It's recommended for skin rejuvenation, sun damage, acne, rosacea, eczema, psoriasis, dermatitis, sensitive and inflammatory conditions, wound healing and scarring as well as anyone who is looking to restore their skin's radiance.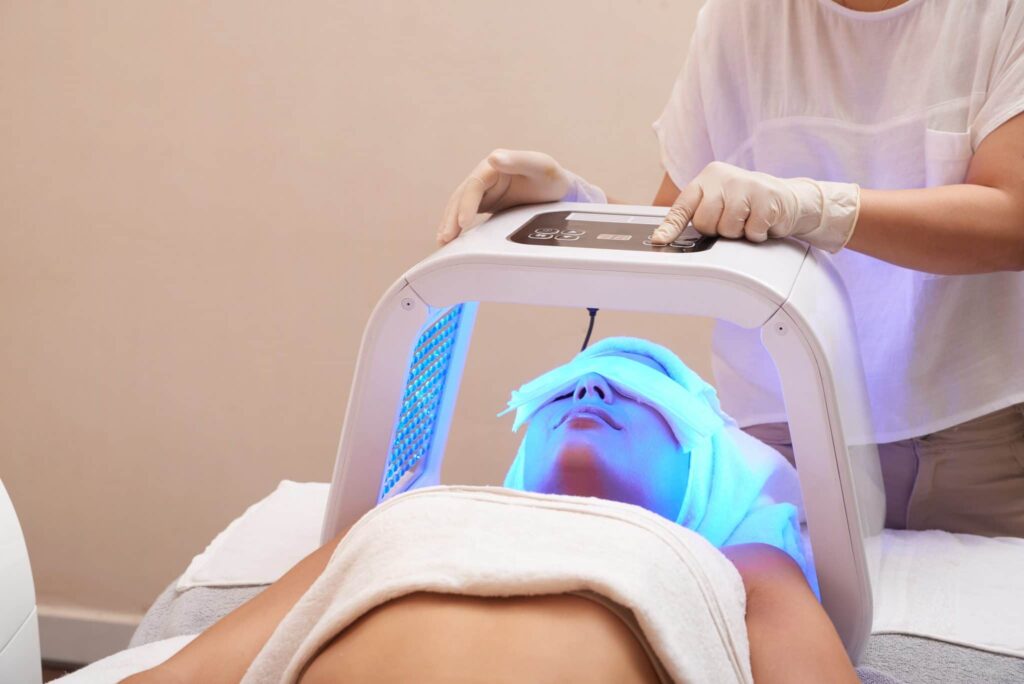 The light will use colour wavelengths of visible light which can have specific skin benefits, the light will use a source of energy to fuel the repair and rejuvenation of damaged cells or in the case of treating the acne, kill bacteria. The energy stimulates the production of collagen and elastin, it boosts circulation and accelerates tissue repair.
A light-emitting diode (LED) light therapy is growing in popularity, the technique helps to:
Treat acne
Reduce inflammation
Promote anti-ageing effects
LED LIGHT TREATMENTS
The procedures will take around 20 minutes at a time and we recommend having treatments once a week for up to 10 weeks, then only once every few months. The LED procedures that we provide aim to improve your skin over time and maintenance treatments are required in order to maintain results.
LED LIGHT TREATMENT FREQUENTLY ASKED QUESTIONS
Does LED light therapy work?
Extensive research has shown that LED light therapy can be an effective treatment when it comes to healing wounds, the treatment is known for improving more than 40% of musculoskeletal injuries in individuals as well as reducing wound healing time. When it comes to using LED light therapy for cosmetics it has been known for improving a range of skin conditions such as acne and psoriasis.
Is LED light therapy safe for skin?
LEDs don't contain ultraviolet rays so they're safe for use on skin, some anti aging treatments tend to cause burns – chemical peels, laser therapy and microdermabrasion, but LED light therapy won't burn the skin. There are side effects including inflammation, redness and rashes, however, this is minor.
Does LED light therapy work for acne?
Yes, LED light therapy is known for being an effective acne treatment, for example, LED light therapy can target sebaceous glands that when overactive can lead to oily skin and acne. LED light therapy will target the glands and make them less active, resulting in fewer acne breakouts, the light can also kill bacteria that can cause acne beneath the skin and help to treat severe acne pimples like cysts.
What is a LEDs light therapy facial?
LED light therapy facials are non invasive treatments that use non thermal LED light energy to help encourage your body's natural cell processes, this is to help rejuvenate and repair the skin.
Does LED light reduce wrinkles?
LED light therapy helps to stimulate and encourage collagen production, this can help to reduce visible signs of ageing as well as helping to restore healthy skin and provide a glowing complexion.
FOR LED LIGHT THERAPY, INNOVATIONS ADVANCED SKINCARE AND BEAUTY CLINIC
For LED light therapy in Stockton or across the North East, simply book an appointment with one of our beauty therapists today, Innovations Advanced Skincare and Beauty Clinic should be your first choice for LED light treatments in the area. Our team of specialists are here for you when it comes to effective LED treatments that offer real results. Look no further than Innovations Advanced Skincare and Beauty Clinic for LED light therapy in Stockton and give our clinic a call today to speak to a friendly therapist. We're here to help with all your needs so you can trust our beauty therapists.
Looking for more treatments? We also provide a range of acne and DMK treatments and you can contact our team today to find out about the at home AlumierMD products we have to offer!
LED LIGHT THERAPY FROM INNOVATIONS BEAUTY CLINIC