HD BROWS TREATMENTS
At Innovations Beauty Clinic we specialise in a range of beauty treatments including HD Brows. Our HD Brow stylists are experts when it comes to the treatment and will ensure that you receive a beauty treatment that enhances how you feel and look. For HD Brows in Stockton and across the North East, contact Innovations today!
WHAT ARE HD BROWS?
About much more than shaping, eyebrows are as individual as fingerprints and our tailored procedures and treatments transform even the most unruly, sparse or over-plucked brows into HD Brows. Our stylists assess the shape of your face and your colouring before creating a bespoke brow, tailored exclusively for you.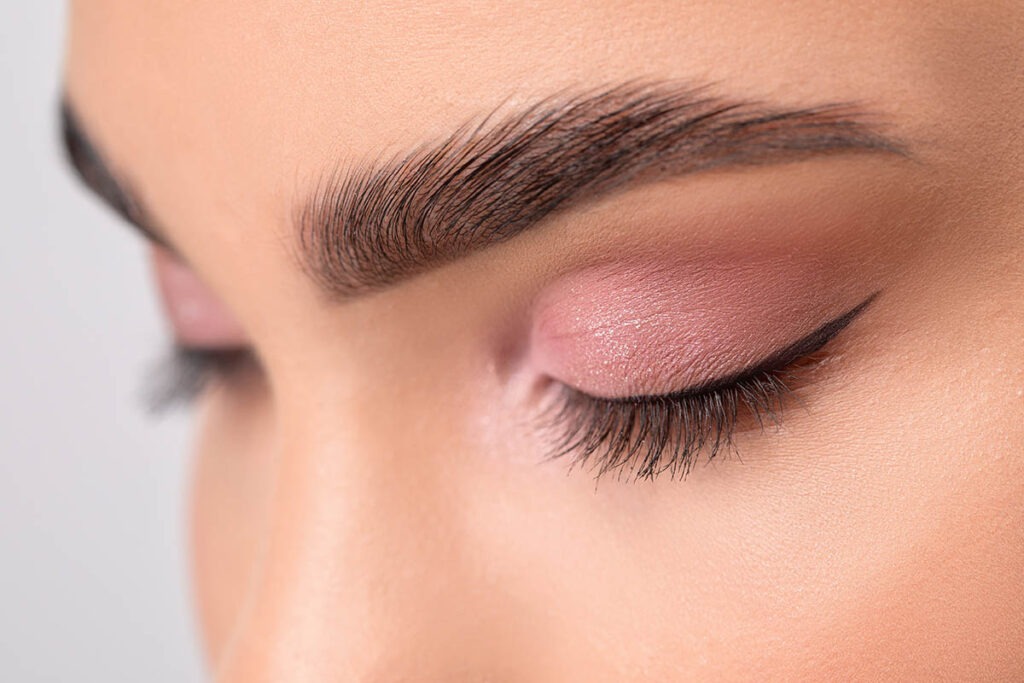 WHAT DOES THE HD BROWS TREATMENT INVOLVE?
Consultation
choosing the right brow look can be difficult, that's why we start with a consultation where our stylists help you based on your face shape, skin tone and your style.
Custom Blended Tinting
We custom blend our bespoke HD Brow Dyes in order to create the perfect tone to complement your skin tone, hair tone and overall style.
Hair Removal
We use our exclusive brow mapping formula which is designed to create a unique shape before using a combination of High Definition hair removal techniques including waxing, threading, tweezing and trimming, all to create the perfect brow shape for you.
Finishing
Your brows will be perfected using our makeup collection along with a mini make up lesson to help you maintain and make the most of your brows between appointments.
THE BENEFITS OF HD BROWS
The treatment helps achieve the right shape, colour and style for your face.
Darker and more arched brows will help to frame your face.
Minimising the requirement for your usual brow maintenance routine.
The results will be well groomed brows that enhance your facial features.
Sculpting your brows for your face, transforming the way you look and feel.
CONTACT US FOR HD BROWS IN STOCKTON
For HD Brows in Stockton, simply book an appointment with one of our beauty therapists today. Our team of HD Brow specialists are here for you when it comes to effective HD Brow treatments that offer real results. If you would like more information on HD Brows. check out our blog on What Are HD Brows now!
HD BROWS FREQUENTLY ASKED QUESTIONS
How long do HD Brows last for?
The effects of the treatment will usually last for around 4 to 6 weeks, however this can vary depending on your hair growth. After your first few treatments you stylist will be able to recommend how often you should be having the treatment done.
How long do HD Brows take?
The HD Brows treatment usually takes around 45 minutes but we suggest allowing an hour for the treatment, if you're in a rush, express treatments which take 15 minutes can also be booked.
Are HD Brows classed as semi-permanent?
The treatment isn't classed as semi permanent however a permanent tint will be used during the treatment. The lasting effects of this will vary depending on the skin type, hair growth and skin care routine. Results of HD Brows treatments will last around 4 to 6 weeks.
Do I need a patch test?
Yes, you should be given a patch test to apply at least 48 hours before each and every treatment in order to minimise the risk of reactions. Some extraneous factors can affect your sensitivity to tint and this is likely to change between each appointment.
How many HD Brows treatments do I need to achieve my desired shape?
The will completely depend on the amount of hair you have to begin with, your HD Brows stylist will be able to advise on how many treatments they recommend to give you the brows that you eventually want during your first consultation.