CACI FACIAL TREATMENTS
For CACI in Stockton, the Innovations Advanced Skin Care and Beauty team offer a range of CACI non-surgical face lifts across the area. It's one of the most popular treatments that we offer and as beauty salon of the year, you can trust that the Innovations Advanced Skin Care and Beauty Clinic will ensure that you receive the highest standard of CACI beauty treatments in Stockton-on-Tees.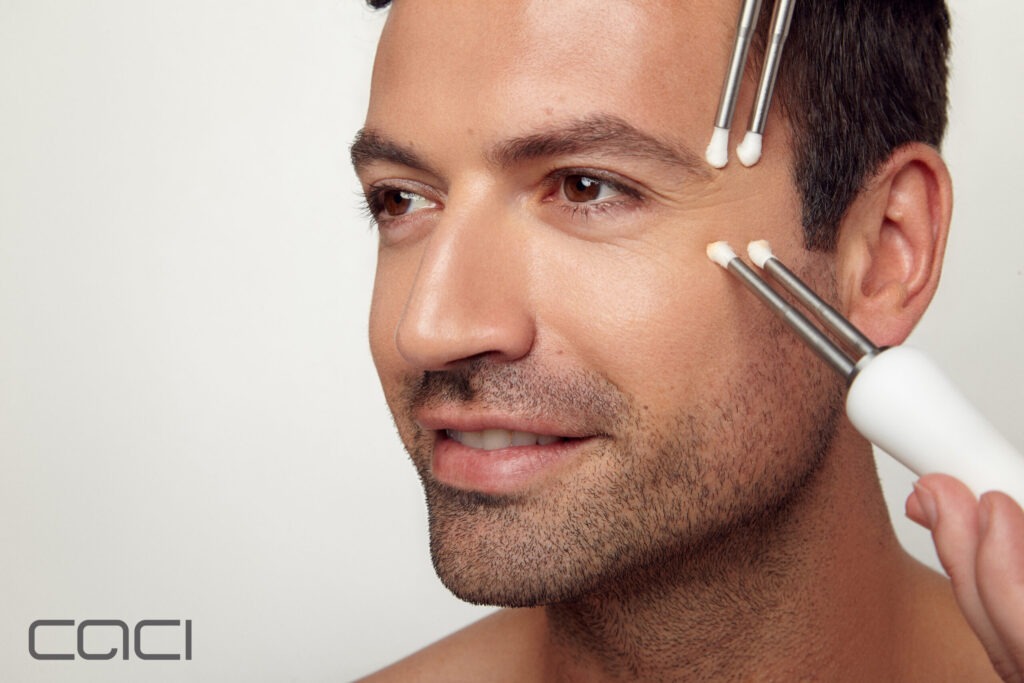 CACI BEAUTY TREATMENTS
CACI (Computer Aided Cosmetology Instrument) facials have been at the forefront of non-invasive aesthetic treatment systems and are still popular today. Having been around for over 25 years, CACI is a style that uses electrical pulses to stimulate all 32 muscles in your face. These non-surgical facials use LED light therapy and a microcurrent, this simultaneous LED and microcurrent energy will help tissue regeneration and the production of collagen.
HOW DOES CACI WORK?
The special wands are moved around the face, positioned at the ends of particular muscles in order to wake them up, this will provide a tingly feeling, the muscles will be persuaded into shape. The microcurrents used will help to improve the circulation of blood and lymph in the face, this is always good for brightening the complexion and draining puffiness.
BENEFITS OF CACI
CACI treatment systems truly deliver visible and corrective results without the need for surgery or invasive procedures. The dramatic results achieved using our exclusive technologies has generated huge demand for CACI treatments and attracted an impressive celebrity following. Here are a few benefits of our micro current technology:
Lifts and tones facial muscles
Reduces the appearance of lines and wrinkles
Increases blood and lymph circulation
Enhances the penetration of skin care formulations
Increases the production of collagen and elastin
Increases protein synthesis and cell membrane transport
Increases mitochondria activity and adenosine
CONTACT US FOR CACI TREATMENTS IN STOCKTON
Our team of CACI specialists are highly trained and are here for you when it comes to effective facials and peels that offer real results. Look no further than Innovations Advanced Skincare and Beauty Clinic for your CACI treatment in Stockton or across the North East and give our clinic a call today to speak to a friendly therapist. Book an appointment today! We are also experts on many other treatments such as Lava Shell Massage. Contact our team today!
CACI TREATMENTS FREQUENTLY ASKED QUESTIONS
ARE CACI TREATMENTS SAFE?
Yes the microcurrent therapy used was originally developed as a medicine application to help treat facial palsy and restore muscle tone through applying tiny microcurrent impulses to the affected muscles. This proven technology is now available in thousands of aesthetic clinics worldwide, including Innovations Advanced Skincare and Beauty Clinic, and is known as one of the best painless cosmetic treatments.
DOES CACI HURT?
It's not uncomfortable and doesn't hurt at all, your therapist will use a 'no dragging' and 'no pulling' technique on the skin and simultaneous vibrations, this will make the treatment as comfortable as possible.
HOW OFTEN SHOULD YOU HAVE CACI TREATMENTS?
Causes of non surgical CACI facelifts will vary depending on the age and muscle tone, it can range from 10 to 15 treatments and courses are tailored to suit each client and their needs. We recommend booking a free consultant in order to determine how many treatments you need, for more information, contact Innovations Advanced Skincare and Beauty Clinic today.
HOW QUICKLY WILL I SEE RESULTS?
Results are often noticeable after just one hour long microcurrent treatment, so CACI is ideal as a one off treatment for a special occasion. For optimum results, we recommend a course of 10 treatments with a follow up treatment once a month in order to maintain results. As CACI adds tone, it can't over develop a muscle, so if you decide not to continue with your treatments, your facial muscles will slowly return to how they were before you started the treatment.
CAN I HAVE CACI TREATMENTS ALONGSIDE FILLERS OR BOTOX?
Having a filler treatment following your course of CACI is fine, you will need to allow 2 to 4 weeks between the filler treatment and CACI, this will give the filler time to settle. We recommend allowing 3 months after Botox. Some CACI clients have been known to have wrinkle relaxing and fillers/botox, we find that the two complement each other well.