RADIO FREQUENCY FACE AND BODY TREATMENTS IN STOCKTON
Our radio frequency skin tightening facials are an effective treatment for sagging skin on the neck, decollete and face, along with wrinkle problems and fine lines. Ageing tends to affect your skin's production of collagen and it can decrease, meaning skin loses its quality. Radiofrequency machines are a common and successful way to stimulate collagen production and strengthen your skin's structure. As well as the facial area, radio frequency machines can be used on the body for slimming, tightening and contouring.
Radiofrequency permits skin tightening and improvement of the skin's appearance painlessly without any post-treatment downtime of classic surgery or other invasive methods. It's a popular option when it comes to skin rejuvenation as it's a non-intrusive way of tightening loss or lax skin around the forehead, eyes, cheeks, mouth, jaw line, jowls, chin and other areas of the body. Radio frequency reduces fine lines and wrinkles, enlarged pores and overall improves skin tone and texture, it's also an effective treatment for dull skin.
SKIN TIGHTENING FACIALS, FACE AND BODY TREATMENTS
Radiofrequency skin treatments utilise pole/electrodes which deliver energy under the skin, this is controlled and limited to the treatment area, the key advantages of this technology are high treatment efficiency, with no pain. The radio frequency machine that we use will treat wrinkles, rhytides, tighten skin and reduce cellulite circumferential fat, the machine will cause collagen synthesis and contradiction, fibroblast proliferation, now-vascularity and lipolysis.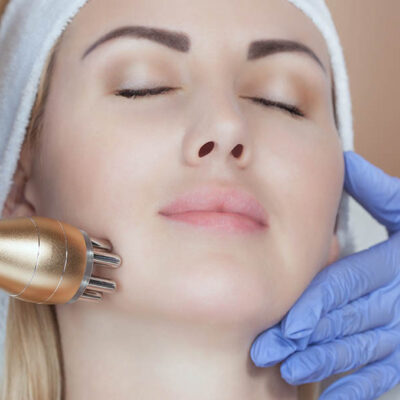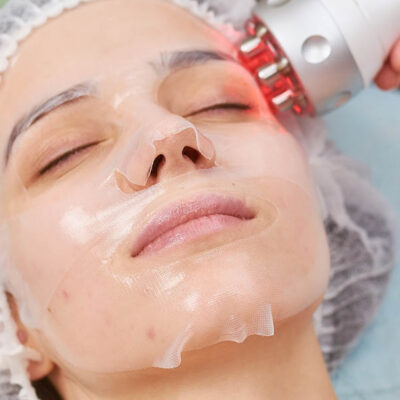 RADIO FREQUENCY FACIAL FREQUENTLY ASKED QUESTIONS
DO RADIO FREQUENCY FACIALS WORK?
Radiofrequency is all about stimulating your own collagen production, during the treatment, a machine is used to heat the skin between 38-40 degrees with radiofrequency, this feels similar to a hot stone face massage. You will feel the heat, but it's comfortable. You'll get an immediate tightening of the collagen fibres, so straight away you'll see results. It's a great option to do before an event or special occasion as the results are instant. With this in mind, it will also provide a long-lasting lift and increased volume, as well as continuing to promote collagen production over four to six weeks following the treatment.
ARE THERE ANY SIDE EFFECTS OF RADIO FREQUENCY FACIALS?
Along with effectively lifting and tightening tissues without surgery or downtime, the biggest benefit of radio frequency treatments is that the post-procedure recovery is very quick and easy. Side effects are typically minimal and short-lived, limited to mild and temporary swelling, redness and tingling, depending on the treatment. Radio frequency treatments can also be performed safely in tandem with injectables, micro needling or other invasive treatments.
IS A RADIO FREQUENCY FACIAL SAFE?
We're all exposed to low levels of human-made radio frequency everyday from phones, to TV and wifi, because it's used for so many things, radiofrequency has been extensively studied for its impact on human health. Radio frequency is classified as being similar to coffee, power lines and body powder.
HOW OFTEN DO YOU NEED TO HAVE A RADIO FREQUENCY FACIAL?
At Innovations Advanced Skincare and Beauty Clinic we recommend a series of 8 treatments a week apart, the best effect you will see will be two months following the final treatment. Depending on the number and how deep the lines and wrinkle area is, is dependent on the number of treatments that you'll need. Many clients like to have monthly treatments as a preventative to aging and keeping their face and body looking its best.
FOR RADIO FREQUENCY FACIALS IN STOCKTON, CONTACT INNOVATIONS BEAUTY CLINIC
Simply book an appointment with one of our beauty therapists today, Innovations Advanced Skincare and Beauty Clinic should be your first choice for radio frequency facials and body treatments in Stockton and the surrounding areas. Our team of radio frequency specialists are here for you when it comes to effective radio frequency face and body treatments that offer real results. Look no further than Innovations Advanced Skincare and Beauty Clinic for your radiofrequency treatment in Stockton or across the North East and give our acne clinic a call today to speak to a friendly therapist.
In addition to radio frequency facials, we also offer a range of other treatments, including AlumierMD treatments and laser hair removal in Stockton!
RADIO FREQUENCY FACIALS NEAR ME