For vein treatments in Stockton On Tees, Innovations Advanced Skincare and Beauty have got you covered. We provide a range of solutions including Cynosure laser vein removal and vein treatments for thread veins for legs and face, this quick and easy customised laser uses smart technology. You are now able to diminish the appearance of face and leg veins without surgery or the lengthy recovery time. For more information on the Cynosure laser vein removal that we provide here at Innovations Advanced Skincare and Beauty, please contact a member of our team today.
Face and Legs Thread Vein Removal
Cynosure thread vein removal is a revolutionary way to diminish and minimise thread veins. You can stop covering up unsightly spider veins and broken blood vessels with Cynosure. Cynosure thread vein removal treatments aim to help people to get back their confidence and feel good both inside and out. The Cynosure thread vein treatments will help to quickly and easily reduce thread veins on your face or legs, it can also provide long lasting results. Please contact our beauty therapists today to arrange a consultation with us.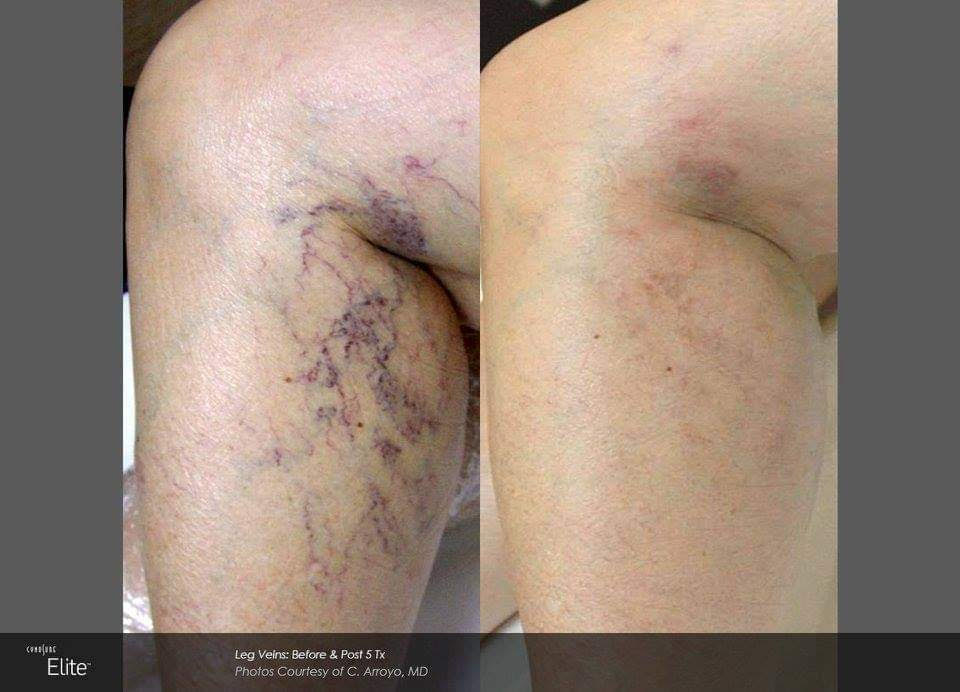 Cynosure Laser Vein Treatment
Vein treatments use advanced laser technology that aims to target and destroy the blood vessels that create veins and cause them to visibly disappear. The laser will target the blood vessels that are in the vein so there is minimal or no damage to the outer layer of your skin. Cynosure is also virtually painless, but this will vary client to client, however it is known for being pain free. Most clients describe the feeling as tingling, so if you are worried or nervous about the pain, Cynosure could be the option for you! For more information, get in touch with Innovations Advanced Skincare and Beauty today!
For Vein Treatments in Stockton On Tees, call Innovations Advanced Skincare and Beauty
For vein treatments in Stockton On Tees, you can book an appointment with one of our team today. Here at Innovations Advanced Skincare and Beauty Clinic, we should be your first choice for thread vein treatments in Stockton and the surrounding areas. We are home to a team of specialists who can provide effective thread vein removal treatments such as Cynosure that offer real results. Look no further than Innovations Advanced Skincare and Beauty Clinic for vein removal treatments in Stockton and give our clinic a call today to speak to a friendly team. We're here to help with all your needs so you can trust our beauty therapists, why not try our online booking system. You can also check out the Cynosure price list here.
FAQs
What can I expect from cynosure thread vein removal?
A lot of our patients will see an immediate improvement when it comes to the appearance of their veins after having the treatment. Some of our clients will then notice a continued improvement over the next couple of days.
How long will the thread vein removal take?
The cynosure thread vein removal treatments can take anywhere from 5 to 30 minutes, however it will depend on the client, the size of the area and the type of thread vein that is being treated.
How many treatments are required?
Again this will all depend on your specific requirements, a series of cynosure treatments may be needed in order to fully clear the blood vessels. Or it may be that you only need one or two treatments to reduce the appearance of the veins completely. On average our clients tend to need one to four sessions for their desired results.
Do the thread vein treatments hurt?
Cynosure treatments are known for being pain free, however this will depend on the patient. Our clients say that they often feel tingling sensations during the treatment, with some stating it feels like the snap of a rubber band. 
THREAD VEIN REMOVAL TREATMENTS IN STOCKTON & THE SURROUNDING AREAS