Feeling tense and desperately wanting a natural way to relieve stress and loosen up those painful knots? Lava shell massage is a relatively new type of heat treatment that is performed using tiger clam shells as a massage tool. The clams have been harvested for centuries in the Philippines and the islands of Turks and Caicos and now the shells are being used worldwide to give relaxing massages 
Here at Innovations Advanced Skin Care & Beauty, we offer various massage options for our lava shell massages, including back, full body, and scalp massages to help you achieve the ultimate state of relaxation. More than just being a relaxing massage tool, the heated lava shells also contain calcium ions that transfer from the hard shell to your skin to help firm and regenerate the skin as a nice bonus.
The Benefits of Lava Shell Massage
While having a lava shell massage is a very relaxing experience, there are other benefits to using lava shells over more traditional tools. They are made by nature and so have no risks of containing harmful chemicals from metals or plastics, and they are heated naturally by inserting a "lava gel sachet" and "activator liquid" into the shell. The best benefits of a lava shell massage are:
Soothes aches and pains, be it from injury or just general aches and pains that have built up from work or everyday life, a lava shell massage works to soothe your body and bring relief. 

Reduce Swelling, especially in your back and shoulders, the places that typically hold the most tension in your body. 

Boost Circulation, which keeps your brain sharp, helps to mend wounds quicker, and gives your natural complexion more of a flushed appearance, literally putting colour into your cheeks.
What to Expect from a Lava Shell Massage
After selecting your desired treatment area, our trained massage therapists will make sure you are comfortable before beginning the treatment. The lava shells used are heated by single-use sachets that contain algae, dried sea kelp, and minerals and heated using an activator liquid, the heat lasts for a couple of hours. Massage oil is applied to make the strokes with the shell smoother. 
The lava shell is pressed into the key points of the body to release tension from knots and relax the muscles and runs the smooth shell over larger areas such as your torso and limbs slowly. Different parts of the shell can be used to achieve different results, such as using the knob on the back of the shell to loosen up tight knots and using the smooth surface to apply gentle, even pressure to larger areas. The narrow edge of the laval shell can be used to work around shoulder blades and between your toes.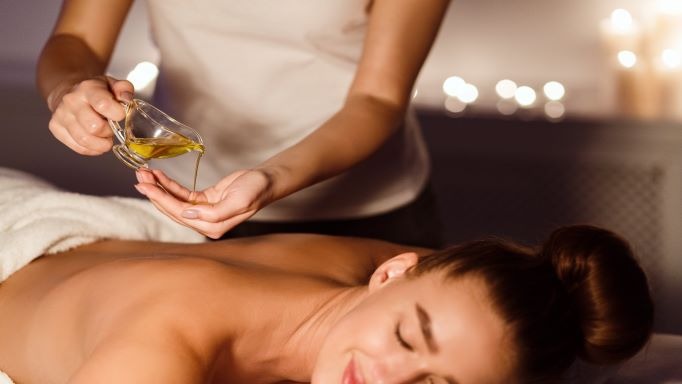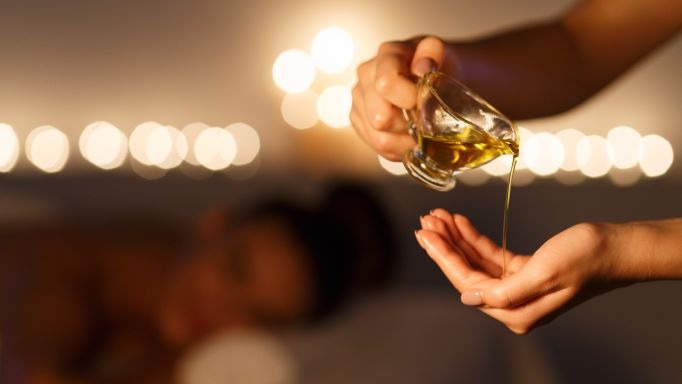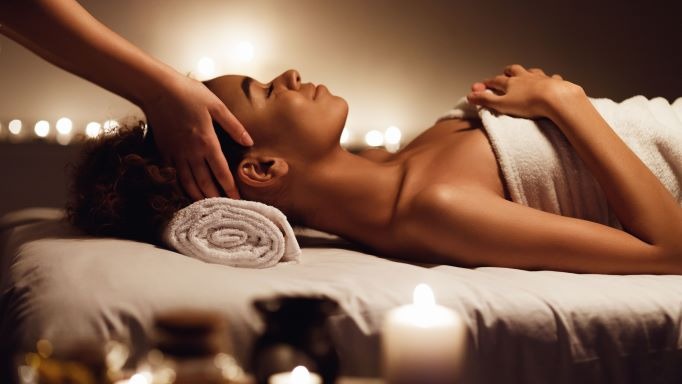 Is a Lava Shell Massage Suitable for Everyone?
Unfortunately, a lava shell massage isn't suitable for some people, due to certain risks that could come with certain conditions. The list of people who aren't able to get a lava shell massage is small and as follows: 
Pregnant women, though it's important to note many massage therapists are attempting to find a way to make lava shell massages safe for pregnant women, so this could hopefully change in the future. 

Epileptics, unless a doctor's note is provided to state that a lava shell massage is safe for the client. This is because massages in general can be risky for those who suffer from seizures or neurological conditions and certain essential oils can trigger epileptic symptoms 

Cancer Patients, as chemotherapy increases the skin's risk of bruising, and the technique used during lava shell massages would certainly leave bruises behind and could do more harm than good. 
It's important that lava shell massages are performed safely on those who are suitable for the treatments to get the best possible results. 
Different Types of Lava Shell Massage
There are various methods of delivering a lava shell massage. The most popular way is by heating the shell with minerals, algae, dried sea kelp, and an activator liquid, but it can also be cooled using a similar method, and smaller lava shells can be used to give facial treatments. Other treatments include:
Thermal Facial Treatment, where smaller crushed shells blended with porcelain are used to massage the face, neck and chest area to tone muscles, boost circulation, and leave your skin looking radiant and feeling firmer. 

Glacial Detox Massage, where one heated lava shell and two chilled glacial shells massage the legs and stomach using flowing movements, the different temperatures expand and contract the blood vessels, stimulating circulation, boosting the lymphatic system, and reducing water retention and bloating. 

Rescue and Sports Massages, which are done with both lava shells and glacial shells to treat targeted muscle and joint pain and reduce stiffness. 
Interested in a Lava Shell Massage? Get in Touch With Us Today! 
Interested in lava shell massage in Stockton-on-Tees? Innovations Advanced Skin Care and Beauty are on hand to meet your requirements. Each of our therapists have undergone rigorous massage training with lava shells to deliver a relaxing massage to help relieve aches and pains and improve circulation. We also offer a range of treatment to meet your needs from Acne Treatment and Chemical Peels to Microdermabrasion and Spray Tans. Contact us Today!
HOT LAVA SHELL MASSAGE TREATMENTS IN STOCKTON & THE SURROUNDING AREAS